Water
Total consumption of water –including drinking water and groundwater— by municipal buildings and services has diminished by about 34% in the 1999-2015 period.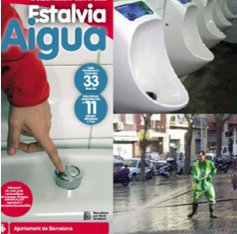 Municipal buildings are the principal consumers of water for the City Council (36% of the total). A similar percentage (35%) is consumed by green spaces, followed by decorative fountains (11%), the Zoo (8%) each), street cleaning (6%), the municipal markets (3%), sewer cleaning (1,3%) and the Institute of Culture (<1%).
The Technical Plan for the Use of Alternative Resources (Pla tècnic per a l'aprofitament dels recursos alternatius, 2009) reinforces the objectives of reducing the consumption of potable water in our city, through the reclaimed water of the treatment plant "El Prat" and increase in the use of groundwater for municipal services. In 2015, groundwater made up about 25% of total municipal water consumption. It's especially worth noting that through use of sewer cleaning and decorative fountains that have reduced their water consumption by about 75% since 1999 and green spaces about 69% since 1999. Currently, almost 100% of the water consumed by sewer cleaning is phreatic (99%).
Along with these measures, water consumption has been reduced through the Government Measure to Encourage Rational Use and Conservation of Water (Mesura de govern per impulsar l'ús racional i l'estalvi de l'aigua, 2007). Water-saving systems have been installed on faucets, and dry urinals have been put in workplaces. In addition, an educational campaign has been organized among municipal workers, with advice on good practice.
Specifically, the Technical Instruction for the implementation of sustainability criteria in cleaning and waste collection of buildings (2015) specifies to include responsible water consumption in training plans for the successful tenderer's personel of these services in municipal buildings.
Indicators
Total water consumption by municipal buildings and services in 2015:
Source: El consum d'aigua a Barcelona, 2016.