Energy
According to the data exposed at the Barcelona Energy, Climate Change and Air Quality Plan (2011-2020), buildings are the responsible of the bigest part of municipal energy consumption (52%), followed by street lighting (20,1%), waste collection vehicles (15,8%), municipal services (8,8%) and the rest of the fleet (3,4%).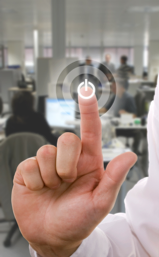 The + Sustainable City Council Programme pursues and reinforces the goals of the municipal programme defined by the Barcelona Energy, Climate Change and Air Quality Management Plan (2011-2020) and the Municipal Buildings Energy Improvement Plan 2010 (PEMEEM), which are:
To rationalise energy use in new and existing facilities using two distinct approaches: improving the efficiency of facilities and equipment (lights, computer equipment, etc..) and the promotion of better use and management of facilities, as put forward by the Instructions from the mayor's office to municipal services on the rational and efficient use of air conditioning in local authority buildings (2005).
To reduce the proportion of primary energy coming from fossil fuels, by expanding the current municipal network of photovoltaic solar panels and thermal solar collectors and increasing the supply of energy from renewable sources.
To reduce the impact of the municipal vehicle fleet
All measures related to reducing energy consumption and promoting renewable energy also help to achieve the goal of reducing CO2 emissions in municipal buildings and services.
Indicators
Municipal energy consumption distribution, by sectors (2008)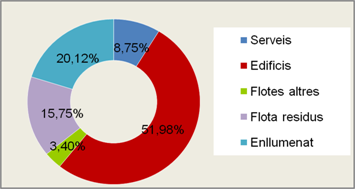 Source: Barcelona Energy, Climate Change and Air Quality Plan (2011-2020)