Timber
The first Barcelona City Council's policy on responsible procurement of timber (2004) has been a referent, both at the state and international level. The new City Council's Policy on responsible procurement of timber from sustainable forests (2015), developed in the framework of the municipal participation in the European Sustainable Tropical Timber Coalition (EU STTC), strengthens the municipal commitment towards the procurement of timber from sustainable managed forests and the City Council's role in the promotion of timber as building material.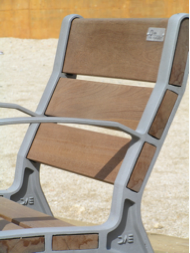 In this way, the Technical Instructions for the Application of Sustainability Criteria for Timber (2015) establish:
The obligation of procuring timber and derived products with sustainable forest guarantees (FSC, PEFC or equivalent certificate)
And the willingness of promoting the use of timber as a building material, and a greater diversity of species
The collection of data on contracts for timber and its purchase is carried out by the City Council using an online form which the heads of each department have to fill out.
Indicators