Vehicles
The City Council owns more than one thousand vehicles of different types, both from their own fleets and from the city service contracts. The transformation of the municipal fleet into more sustainable models has the twofold objective of reducing city emissions (atmospheric and noise emissions), and fostering the new cleaner available technologies.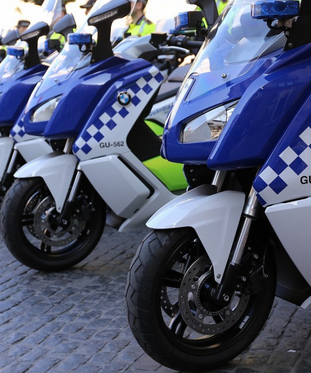 In that sense, the Technical instructions for the application of sustainability criteria to vehicles (2015) clarifies the priorities to be taken into account when determining the type of vehicle to acquire:
Priority 1: All kinds of electric vehicles
Priority 2: Plug-in hybrid vehicles
Priority 3: Non-plug-in hybrid and gas vehicles (including bi-fuel vehicles)
Priority 4: Petrol-driven vehicles
Priority 5: Diesel-driven vehicles
The inclusion of environmental criteria in the street cleaning and waste collection contract has reduced the environmental impact of vehicles: 35% of the fleet now runs on biodiesel, 35% on gas and 30% are electric or hybrid vehicles.
The Territorial Unit of the Eixample District from the Barcelona City Police has already rented 30 electric scooters, which places Barcelona as the first world city with a no-emissions scooter fleet.
It is also worth highlighting the Barcelona Metropolitan Transport (TMB) commitment towards gas and hybrid buses, and the test-beds in real environments.
The +SCC Programme measures related to internal mobility are described in section "Communication and awareness-raising / Mobility".